The Roof Assurance Program
Spoutco Company's Commercial Roof Repair and Commercial Roof Maintenance teams are specifically trained team members of the Baker Roofing Company organization that specialize in commercial roof maintenance. What that means is we are 100% self perform on our commercial repair work. When you place a service request with Baker Roofing Company you are getting a continuously trained, specialized, and uniformed Spoutco Company employee who knows how to get the job done right.
Our Roofing Services
Rubber Roofing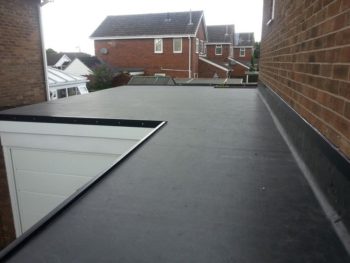 Our company provides quality rubber roofing services to the Greater Philadelphia and South New Jersey metropolitan area. We have a variety of rubber roof services that include but are not limited to installation, repair, and  maintenance. Our professional roofing crews are knowledgeable and experienced in rubber roofing. They always complete the job to the exact specifications and ensure that each customer is 100% completely satisfied upon job completion. Whether you simply need a rubber roof repair or require a completely new rubber roof, Roof Gurus is the roofing service company that you can trust.
We also offer excellent rubber roof maintenance services, including silver coating. Silver coating should be applied to your rubber roof three months after the initial installation and every three years thereafter. This particular type of coating is designed to prolong the lifetime of your rubber roof, increasing its durability and preventing leaks and tears. Silver coating application maintenance will save money and provide piece of mind knowing that you and your property are protected. Call the Roof Gurus today for all of your rubber roof needs in the Greater Philadelphia and South Jersey metropolitan area.
Protect your investment and extend the life of your roof.
Metal Roofing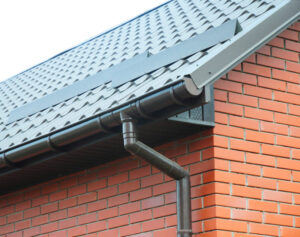 Residential metal roofing has become a popular choice for residential buildings for a lot of important reason. Asides the fact that they are a lot more durable than a lot of other roofing options out there, they are also attractive adding a unique aesthetic appeal to your home and blending perfectly with any type of architectural style. This is asides from the fact it also helps you to cut down on energy costs in your home.
In the hand of a qualified expert, metal roofing is one of the best ways of protecting your home from damage which is why you should call Spoutco for your residential roofing. We gave skilled roofing technicians who are well trained and are experienced in handling all types and materials of metal roofing to deliver different beautifully styled metal roofs.
You can choose from a variety of materials from steel to aluminum or a mixture of copper and steel all of which add an exceptional beauty to your home and are also resistant to damage by corrosion caused by various weather elements.
We offer different types of residential metal roofing based on your preferred construction and attachment methods. You can make your choice between Vertical seams, preformed panels, or granular coated panels for your residential metal roofing. You can also choose from a variety of styles such as shingle, tile, metal shake or vertical panel. Spoutco services provide top quality installation, maintenance, repair and upgrade of all type of metal roofs for your residential building.
With our roofers on your roof, you don't have to ever worry about the quality of the service you are getting. Call us today for a free estimate of our services and we will respond to you in no tim
Roof Coatings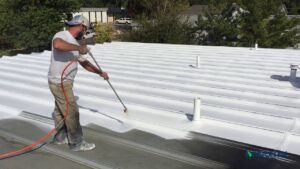 Roof coatings come in wide varieties and applications. If you are a building owner, it is tough to wade through all of the information without a degree in chemistry in order to make the best decision for your commercial structure. Baker Coatings is equipped to give you all of the options you need to make an informed decision.
While some applications of roof coatings require a tint to be added for aesthetic reasons, most commercial buildings will utilize a white coating for the added energy savings. Baker Coatings evaluates each of their manufacturing partners in the area of product quality, business strength and customer service. We have done the research necessary to be confident in the quality of the products we apply. That being said, coating your roof can be a challenging undertaking, and we are here to make it easier for you.